Bethesda Divorce Lawyer
Two individuals may have said "I do," but sometimes it ends in "I do not." The very idea of divorce prompts a wide range of emotions, from fear to grief to frustration. It is often a lengthy process that can be traumatic for you and the ones you love. Hiring a divorce attorney early in the process can help ease some of these pains and help you get your life back on track quicker. At Petrelli Previtera, we strive to bring clarity out of your divorce chaos. Our Bethesda MD divorce lawyers are not just skilled litigators who think outside the box. They're also exceptional negotiators. Let us protect you and what you value most during this difficult time.
Why Choose Petrelli Previtera?
We stay on top of the latest laws, rules, and best practices in Maryland divorce law.
We offer customized solutions and top-of-the-line customer service.
We are goal-oriented, meaning we handle every case with a high-level service from our very first encounter.
We endeavor to form solid attorney-client relationships, leading to satisfactory results from start to finish.
Our award-winning divorce attorneys focus on collaboration and strategic planning rather than disruptive litigation strategies.
From negotiated agreements to complex litigation, we work tirelessly to earn the best results for our clients.
To get the legal counsel you need, please reach us today at 866-465-5395. You can also schedule a Zoom consultation with one of our top divorce attorneys in Bethesda, MD. Let the team at Petrelli Previtera handle the complexities of your divorce case as you focus on what matters most: yourself, your future, and your children's.
Putting Our Clients' Needs First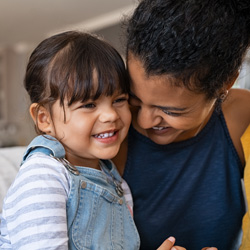 Couples who end their marriage need the counsel of a proven divorce attorney who can secure their economic future, protect their property, and fight for their children's rights. It is easy to get lost in the confusion and emotional maze that divorce brings. But frustration, anger, and grief won't put food on the table, a roof over your heads, or pay the bills.
At Petrelli Previtera, we provide calm during your divorce storm. For us, no two divorce cases are the same. We take the time to carefully assess your individual needs and goals and explore all options for the best possible result. Our Bethesda divorce attorneys believe that divorce doesn't have to tear down what you've taken years and years to build. We believe it can open the door for a new, better chapter of your life.
While we understand Maryland law's broad legal guidelines, we tailor our representation to address each unique aspect of your divorce. Our mission is to provide you with the confidence, character, and serenity you need to move your life forward. We offer legal guidance to high-net individuals and those with limited income—no divorce case is too big or too small for us.
Our Bethesda divorce attorneys represent clients in:
Child custody: We understand that the health, security, and well-being of your children are of utmost importance. That's why we fight relentlessly to secure favorable child custody and parenting plan decisions for you.
Child support: Child support is one of the biggest expenses after a divorce. You might be obligated to make or entitled to receive payments. Either way, our Bethesda divorce attorneys will help you win generous support orders.
Asset and property division: Our attorneys will help you divide marital assets and debts equitably under Maryland's community property laws.
Alimony/Spousal support: We'll help you determine if you're qualified for spousal support, and if so, the duration, frequency, and amount of alimony payments you're entitled to receive.
Modifications: Circumstances may change once you put pen to paper on your divorce papers. You might get a pay rise, be on the wrong side of a layoff, or perhaps your ex lands a new job that pays handsomely. When things change considerably after your divorce, you might be entitled to a court order modification. Our Bethesda divorce lawyers can help with that too.
We also handle offer legal guidance and representation on other divorce-related matters, including:
No matter your specific divorce issue, we can help you find an amicable, lasting, and favorable solution. We can navigate Maryland's many divorce laws and statutes while you focus on moving forward. For top-notch legal counsel and experienced advocacy, get in touch with Petrelli Previtera today at our law offices in Bethesda.
The Divorce Laws in Bethesda: What You Need To Know
Like in every other state, divorce in Bethesda is best understood as a process rather than an event. It happens in stages, which, when combined, can take anywhere from less than three months to more than 36 months to complete.
At Petrelli Previtera, we believe that the best way to help our clients through this emotionally taxing period is by keeping them up to date on information related to their case and by ensuring they understand the nuts and bolts of the Maryland divorce process and laws. Contact any of our skilled Bethesda divorce attorneys as you embark on this difficult—often tedious—journey.
Types of Divorce in Bethesda
In Bethesda, MD, there are two types of divorce:
Limited divorce: In a limited divorce, you and your spouse live separately and divide assets as you deem fit. However, the divorce is not permanent and can be reversed down the road. While most limited divorces in Bethesda eventually become permanent, others do not.
Absolute divorce: In an absolute divorce, the two of you separate permanently. Since this type of Maryland divorce marks the final and irreversible termination of a marriage, you can remarry if you choose.
Grounds For Divorce in Bethesda
Maryland requires specific grounds for divorce. This means that to file for divorce in Bethesda, you'll need to forward a petition to the court lawfully explaining why you're asking for it.
In Bethesda and anywhere else in Maryland, divorce is regarded as an outcome of separation. So you'll have to make the court understand why you're already separated from your partner.
The good news is that under the code section Fam. Law §7-101-103, the Maryland divorce law accepts a vast range of grounds for divorce, as long as your case fits within any of these situations:
Incurable insanity of one partner
"No fault" divorce or uncontested divorce as a result of separation
Desertion, or when one partner leaves the other for a period of time
Mutual consent by both spouses through a signed and filed Marital Separation Agreement.
Cruelty or excessively vicious conduct
Adultery
In a no-fault divorce, you and your spouse must have lived apart for 12 months without interruption. This is the main reason why separating couples in Bethesda opt for a limited divorce first before proceeding to the absolute divorce once the 1-year period is over.
The Divorce Process in Bethesda—Overview
Step 1: Petition for divorce
If you're the plaintiff, the very first thing you need to do is file a divorce complaint at a local court.
Step 2: Serve your spouse.
After you've petitioned the court for divorce, the papers will then need to be served to your partner. You cannot do this yourself. Any legal adult who is not part of the case can serve the divorce papers. It could be a process server, a relative, or a good friend.
Step 3: Ask for temporary orders (if need be)
During the divorce proceedings, it's possible to ask the court for temporary orders. Requests can be related to child custody, child support, visitation, or spousal support. If the court approves your request, the temporary orders will stand until a new court judgment or order supersedes them.
Step 3: Exchanging financial information
The local court will not be able to divide debts and assets without knowing what assets and debts exist. That's why both spouses need to exchange financial information with each other and be transparent about any financial details. If need be, your divorce attorney will go over the finances and ensure everything is accounted for. And if you suspect that your partner might be hiding assets, income, or salary from you, your attorney can help you dig deeper into the hidden books and cheques.
Step 4: Discovery
Discovery is an important phase in the Bethesda divorce process. It is here that you can obtain case information and evidence from your partner. Your attorney can make requests for pay stubs, bank statements, bank records, etc. Attorneys typically have up to 60 days before the trial date to make formal requests for any crucial records.
Step 5: Negotiations/Settlements
It's always prudent to settle a divorce during the negotiation stage instead of taking the case to trial. Negotiations allow you and your partner to retain control of important aspects of the divorce rather than leaving the decision to a judge or magistrate. A settlement can only be attained if you and your partner agree on every contentious issue surrounding the divorce, including custody, spousal support, attorney fees, etc. Keep in mind that if you can't arrive at a full settlement, the case will move to trial.
Step 6: Trial
When parties in a divorce fail to agree during negotiations, the court will have to intervene. Both of you will be given a chance to present your cases. Ultimately, the judge will make a ruling on any teething divorce issues according to how he/she deems fair.
In the face of the lengthy and tedious divorce process, it's important to have a Bethesda divorce attorney who will fight to protect your best interests. The divorce attorneys at Petrelli Previtera possess the know-how, skills, and aggressiveness to tip the scale in your favor and earn the best possible outcome. Call us at (301) 889-8085 today.
Bethesda Divorce Law Frequently Asked Questions
1. How Do I Find the Best Divorce Lawyer for Me?
Finding the best divorce attorney for your case is a daunting task. Here are a few tips to consider when choosing a divorce lawyer for you.
Family law experience. Ask the attorney about their experience. Make sure they have specific experience handling family law cases like yours. You will also want to make sure they have experience arguing divorce cases in court and have a winning track record.
Ask friends and family to refer their divorce attorney. Word of mouth is not going away. The best way to find a good attorney is to talk to people you trust who've had a positive experience.
Do some online digging. Scour through Avvo.com and Lawyers.com to check for your prospective lawyer's ratings. Beyond that, go through their LinkedIn profile and website testimonials.
Will they take time to explain your legal options? Decisions relating to your case can't be made on a whim. Find a lawyer that will explain your options in great detail, whether that pertains to custody arrangements, child support, or spousal maintenance. Every decision you make carries lasting consequences, and you need adequate guidance to make an informed choice.
Trust your feelings. How does your prospective lawyer make you feel? You want someone that'll be passionate about your case. You want someone that'll have your best interest at heart. You want someone that'll display great enthusiasm about helping you achieve your desired outcome. If your attorney makes you feel uncomfortable or if they appear rushed and unnecessarily aggressive, choose someone else.
2. What might legal forms be necessary when filing for divorce in Maryland?
To initiate the divorce process, you (the plaintiff) must complete a "Complaint for Absolute Divorce" form and the "Civil Domestic Case Information Report." To respond to a divorce petition that your partner filled, you (the defendant) can use Counter-Complaint CC-DR-020/021 and Answer form CC-DR-050.
If and when necessary, you might want to use a Joint Statement of the Parties Concerning Marital and Non-Marital Property or form CC-DR-033, a settlement agreement, waiver forms, and financial records.
3. How long does it take to get a divorce?
How long it takes to get a divorce in Bethesda depends on three key things:
The number of contentious issues in your case- If you have a contested divorce, with no custody or support issues, on average, it takes on average 30-120 days from the date you first petitioned the court to obtain an absolute divorce.
Where you live and where your partner lives or works
Your grounds for divorce
At Petrelli Previtera, our goal is to make Bethesda's divorce process as hassle-free and quick as possible. If you're ready to transition to the next chapter of your life with clarity and not chaos, schedule an initial consultation now.
4. Do I need to hire a Bethesda divorce lawyer?
When you're navigating the tricky waters of divorce, it's difficult to remain objective and level-headed. If you're not a trained divorce or family lawyer, you will not know how to protect yourself and fight for the best income for your children. You need compassionate, aggressive, and resilient attorneys to protect your rights. You need Bethesda divorce lawyers who can advise about all the available options and who can give you sound, unbiased legal counsel. Besides, the settlement of major issues like child custody, asset division, and spousal support will have a huge impact and that on your children, so you need a lawyer to make you understand what's at stake. We are that lawyer.
5. What does a Bethesda divorce cost?
It's not easy to estimate what your divorce will cost. Our attorneys typically charge depending on the time they spend on your case, otherwise known as "billable hours." So if your case settles out of court, you will pay considerably less than it would be if a trial was necessary.
6. What evidence do I need to prove adultery?
Bethesda courts acknowledge that it is quite difficult to prove adultery through the testimony of eyewitnesses. But there's no need to catch the cheating spouse in the act. All you need to do is use circumstantial evidence to show that 1. the alleged adulterer and his or her lover had an opportunity to cheat, and 2. they were inclined to commit adultery.
7. What kind of conduct constitutes cruelty?
Under
 Maryland divorce law
, cruelty could be mental abuse or physical abuse. Evidence of controlling behavior, threats of violence, actual violence, taunting, isolation from friends and family, or other misconduct that the court deems to permanently destroy one spouse's happiness or severely affect his or her health will justify an absolute divorce based on excessively vicious conduct or cruelty.
Get Support From Award-Winning Bethesda Divorce Lawyers
Petrelli Previtera has continually been recognized as one of the top divorce firms in Maryland. Founding and managing partner Thomas Petrelli, Jr. has received Avvo's highest possible rating of 10/10. But that's not all. Just recently, Inc. 5000 named Petrelli Previtera #2703 on its 2019 Inc.5000 list, which shows our commitment to helping our divorce clients achieve freedom and a better life post-divorce.
When you need the best Bethesda divorce attorneys in your corner, you can count on us. You have an entire team of prestigious, high-caliber attorneys ready to protect your interests and fight for you. Please call (301) 889-8085or schedule an online consultation via Zoom to make an appointment with us.
We Have The Answers That You're Looking For!
Unlike other Bethesda law firms, we don't leave you hanging out to dry when things get tough. Instead, we strive to conclusively handle every aspect of your divorce case, including answering any questions you might have along the way. Our mission is to bring clarity out of chaos, giving you a happy ending no matter the nuances and complexities of the process. Want to find out if we're the right fit for you? Contact or call us today at (301) 889-8085 or schedule an online consultation with one of our live agents.