What We Will Do For You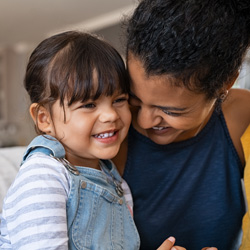 Couples who end their marriage need the counsel of a proven divorce attorney who can secure their economic future, protect their property, and fight for their children's rights. It is easy to get lost in the confusion and emotional maze that divorce brings. But frustration, anger, and grief won't put food on the table, a roof over your heads, or pay the bills.
At Petrelli Previtera, we provide calm during your divorce storm. For us, no two divorce cases are the same. We take the time to carefully assess your individual needs and goals and explore all options for the best possible result. Our Bethesda divorce attorneys believe that divorce doesn't have to tear down what you've taken years and years to build. We believe that it can open the door for a new, better chapter of your life.
Our Bethesda divorce attorneys represent clients in:
Child custody: We understand that the health, security, and well-being of your children are of utmost importance. That's why we fight relentlessly to secure favorable child custody and parenting plan decisions for you.
Child support: Child support is one of the biggest expenses after a divorce. You might be obligated to make or entitled to receive payments. Either way, our Bethesda divorce attorneys will help you win generous support orders.
Asset and property division: Our attorneys will help you divide marital assets and marital debts equitably under Maryland's community property laws.
Alimony/Spousal support: We'll help you determine if you're qualified for spousal support, and if so, the duration, frequency, and amount of alimony payments you're entitled to receive.
Modifications: Circumstances may change once you put pen to paper on your divorce papers. You might get a pay rise, be on the wrong side of a layoff, or perhaps your ex lands a new job that pays handsomely. When things change considerably after your divorce, you might be entitled to a court order modification. Our Bethesda divorce lawyers can help with that too.
No matter your divorce issue, we can help you find a favorable solution. We can navigate Maryland's many divorce laws and statutes while you focus on moving forward. For top-notch legal counsel and experienced advocacy, get in touch with Petrelli Previtera today at our law offices in Bethesda.
Your Divorce Process in Bethesda
Step 1: Petition for divorce
If you're the plaintiff, the very first thing you need to do is file a divorce complaint at a local court.
Step 2: Serve your spouse.
After you've petitioned the court for divorce, the papers will then need to be served to your partner. You cannot do this yourself. Any legal adult who is not part of the case can serve the divorce papers. It could be a process server, a relative, or a good friend.
Step 3: Ask for temporary orders (if need be)
During the divorce proceedings, it's possible to ask the court for temporary orders. Requests can be related to child custody, child support, visitation, or spousal support. If the court approves your request, the temporary orders will stand until a new court judgment or order supersedes them.
Step 3: Exchanging financial information
The local court will not be able to divide debts and assets without knowing what assets and debts exist. That's why both spouses need to exchange financial information with each other and be transparent about any financial details. If need be, your divorce attorney will go over the finances and ensure everything is accounted for. And if you suspect that your partner might be hiding assets, income, or salary from you, your attorney can help you dig deeper into the hidden books and cheques.
Step 4: Discovery
Discovery is an important phase in the Bethesda divorce process. It is here that you can obtain case information and evidence from your partner. Your attorney can make requests for pay stubs, bank statements, bank records, etc. Attorneys typically have up to 60 days before the trial date to make formal requests for any crucial records.
Step 5: Negotiations/Settlements
It's always prudent to settle a divorce during the negotiation stage instead of taking the case to trial. Negotiations allow you and your partner to retain control of important aspects of the divorce rather than leaving the decision to a judge or magistrate. A settlement can only be attained if you and your partner agree on every contentious issue surrounding the divorce, including custody, spousal support, attorney fees, etc. Keep in mind that if you can't arrive at a full settlement, the case will move to trial.
Step 6: Trial
When parties in a divorce fail to agree during negotiations, the court will have to intervene. Both of you will be given a chance to present your cases. Ultimately, the judge will make a ruling on any teething divorce issues according to how he/she deems fair.
In the face of the lengthy and tedious divorce process, it's important to have a Bethesda divorce attorney who will fight to protect your best interests. The divorce attorneys at Petrelli Previtera possess the know-how, skills, and aggressiveness to tip the scale in your favor and earn the best possible outcome. Call us at (301) 889-8085 today.
Get Support From Award-Winning Bethesda Divorce Lawyers
Petrelli Previtera has continually been recognized as one of the top divorce firms in Maryland. Founding and managing partner Thomas Petrelli, Jr. has received Avvo's highest possible rating of 10/10. But that's not all. Just recently, Inc. 5000 named Petrelli Previtera #2703 on its 2019 Inc.5000 list, which shows our commitment to helping our divorce clients achieve freedom and a better life post-divorce.
When you need the best Bethesda divorce attorneys in your corner, you can count on us. You have an entire team of prestigious, high-caliber attorneys ready to protect your interests and fight for you. Please call (301) 889-8085or schedule an online consultation via Zoom to make an appointment with us.
We Have The Answers That You're Looking For!
Unlike other Bethesda law firms, we don't leave you hanging out to dry when things get tough. Instead, we strive to conclusively handle every aspect of your divorce case, including answering any questions you might have along the way. Our mission is to bring clarity out of chaos, giving you a happy ending no matter the nuances and complexities of the process. Want to find out if we're the right fit for you? Contact or call us today at (301) 889-8085 or schedule an online consultation with one of our live agents.